Latest
News
Sanam Beach House has its stake in the hill resort, in Wayanad, namely The Lakkidi Village Resort.For those who want to enjoy the Beach and the Hills of Kerala we can give a most enjoyable and comfortable stay in these two facilities. Please visit: www.lakkidivillage.com for more details on the Wayanad resort.
View All
Kannur
Fort
Back to Attractions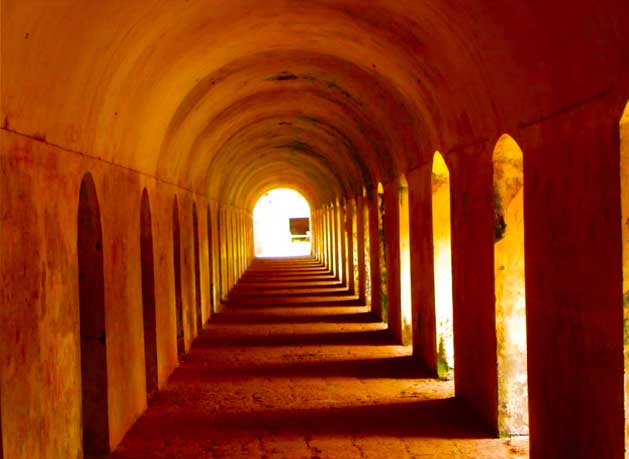 ---
St. Angelo's Fort (also known as Kannur Fort or Kannur Kotta), is a fort facing the Arabian Sea, situated 3 km from the town of Kannur.

St. Angelo's Fort was built in 1505 by Dom Francisco de Almeida, the first Portuguese Viceroy of India and is on the Arabian sea about 3 km from Kannur town. It was attacked in vain by the local Indian ruler in the Siege of Cannanore (1507).

In August 1509, Almeida, refusing to recognize Afonso de Albuquerque as the new Portuguese governor to supersede him, arrested him in this fortress after having fought the naval Battle of Diu. Afonso de Albuquerque was released after three months' confinement, and became governor on the arrival of the grand-marshal of Portugal with a large fleet, in October 1509.

The fort changed hands several times. In 1663 the Dutch captured it and sold it to the Arakkal Royal Family in 1772. The British conquered it in 1790 and transformed it into one of their major military stations on the Malabar Coast. It is fairly well preserved as a protected monument under the Archaeological Survey of India. A painting of this fort and the fishing ferry behind it can be seen in the Rijksmuseum in Amsterdam.

The fort is in Cannanore (now Kannur) cantonment area. St Angelo's fort is a most important historical monument and a good tourist centre. Here Kerala Police have posted their Tourism Policemen for the protection and guidance to the tourists.

The Moppila Bay Harbor and Arakkal Mosque are near the fort. The fort is now renovated and well-maintained under the supervision of the Archaeological Survey of India.

Location: 3 kms from Kannur
Nearest Railway Station: Kannur
Nearest Bus Station: Kannur
Nearest Airport: Kozhikode (120 kms).
Back to Attractions
---